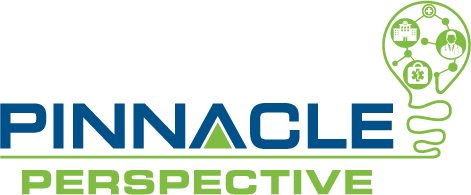 PHC August 2023 Real Estate Practice Newsletter
Healthcare Real Estate Transactions
Mountain Point Medical Center – Salt Lake City, UT.  JLL Capital Markets, Medical Properties Group announced the sale of Mountain Point Medical Center, a 60,000 square foot medical office building connected to the 40-bed Holy Cross – Mountain Point hospital in Lehi, Utah. The property is 100 percent leased to Centura Health, a non-profit faith-based health care system based in Colorado with 25 hospitals located throughout Colorado, Utah, and Kansas.
Charleston Cancer Center – Charleston, SC.  JLL Capital Markets announced it arranged the $10.1 million sale of the Charleston Cancer Center, totaling 26,256 square feet in Charleston, South Carolina at a 5.28% cap rate. The two-story, newly renovated medical office building is located at 2910 Tricom St. The property includes specialty treatment equipment including an infusion area, computed tomography ("CT") imaging, lab, and an area on the second floor for clinical studies personnel. The Charleston Cancer Center is a single tenant clinical building with multiple cancer related specialties treated within the premises. The center was originally built in 2002 and has received renovations by both current ownership and tenant, RSFH, following Roper's acquisition of Charleston Oncology.
Mission Critical Healthcare Facility – Providence, RI.  JLL Capital Markets announced it advised Sendero Capital and Angelo Gordon on the acquisition of 2 Wake Robin Road, a 30,000-square-foot medical office building in Providence, Rhode Island. The joint venture is focused on value-add and core plus outpatient medical office and surgery center assets throughout the Northeastern United States – a region with high barriers to entry, strong growth, and one of the largest concentrations of healthcare businesses in the U.S.  Constructed in 2006, 2 Wake Robin Road is a premier medical office building that is currently 96% leased to Lifespan Health System and clinical medical tenants offering a variety of services, including urgent care, primary care, imaging, pediatric care, physical therapy, and pathology. The building is located less than an hour from Boston and two national airports and is strategically positioned between Landmark Medical Center (6.6 miles) and Miriam Hospital (10 miles).
Healthcare Real Estate Recent Trends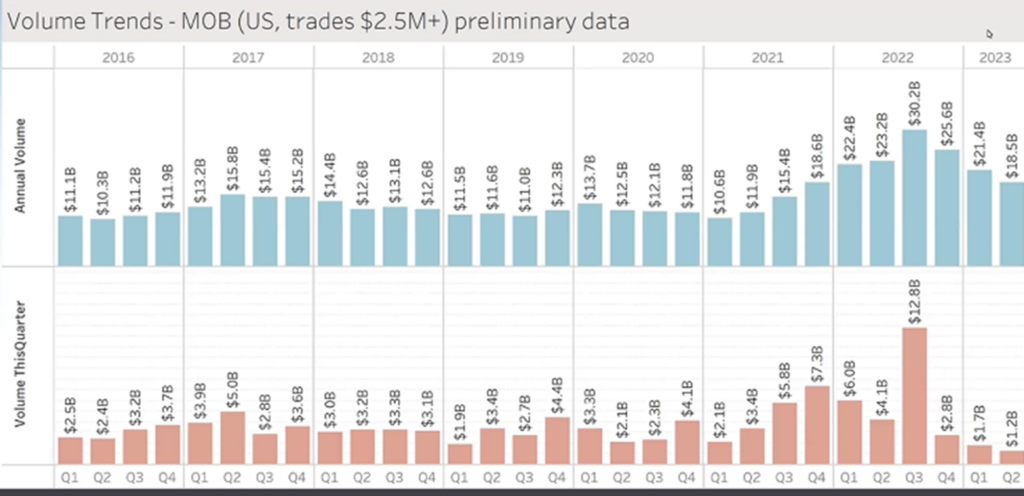 MOB Sales drop and CAP Rates Increase since start of 2023.  According to the most recent statistics from Arnold, Md.-based Revista and its healthcare real estate (HRE) data service, RevistaMed, the MOB sales volume in the first half of 2023 fell 71 percent compared to the first half of 2022.  Revista's Q2 Subscriber Webcast information provided MOB sales data showing that the preliminary volume in the second quarter (Q2) was just $1.2 billion, the lowest quarterly volume Revista has recorded since its founding in 2015.  When combined with the MOB sales volume of $1.7 billion in Q1, the first half of 2023 saw sales of only $2.9 billion, down, as noted, 71 percent from the $10.1 billion recorded in the first half of 2022.  It is worth noting that the records were established in multiple quarters of 2022.  Regarding Cap Rates for MOB, the information provided on Revista's Webcast confirmed that Cap Rates are up approximately 60 basis points from this point last year on a trailing 12-month (TTM) average currently in the 6.5% Cap Rate range.
What will the next twelve months look like regarding the Healthcare Real Estate Industry?  The MOB Sales mentioned above is a fairly good indicator of trends for the healthcare real estate industry as a whole. The outlying "high water mark" of $12.8B in Q3 of 2022 seems like an anomaly. Understanding the previous record prior to $12.8B was $7.3B in Q4 of 2021 which at the time was unprecedented confirms that $12.8B was unusual and excessive. Now that this amount is in the rearview mirror, where is the industry heading now? From our perspective we believe we are in a period of correction to the overreaction with the past two (2) quarters being the lowest individually and collectively since these numbers were charted in 2015. Understanding that the current global issues and financial lending market situation will continue through the end of 2023, we expect these low and below average numbers will continue as well into the first (Q1) and possibly second quarter (Q2) of 2024. Regarding rental rates, we believe they have and will continue to stabilize in Q3 and will continue going forward. In addition, we believe the net effective rates that factor concessions such as abated rent will start to lower from previous quarters. Net effective rates are more difficult to confirm but we believe the trend of Landlords providing more concessions to tenants for new and renewal leases will continue through the end of 2023.
For more information, please contact Director Mike Vandaveer at MVandaveer@AskPHC.com, Director Chris Louis at CLouis@AskPHC.com, or Analyst Tony Price at TPrice@AskPHC.com.